The drama industry, recently, has successfully shoved some serials into our sacks which managed to garner immense attention and adoration from the audience. Ehd e Wafa was one such production which had its viewers hooked since its inception. Produced in collaboration with ISPR the drama entailed the story of four friends who split over a mishap but unite again many years later; each one pursuing a different goal in life.
Saad, one of the four friends, played by Ahad Raza Mir, joins the armed forces, Shazain (Osman Khalid Butt) becomes an MNA, Shariq (Wahaj Ali) tries his luck in the media and becomes an accomplished anchor while Sheheryar (Ahmed Ali Akbar) aces his CSS exams and gets appointed as an Assistant Commissioner.
Ehd e Wafa was a breath of fresh air amidst all the customary, "kitchen-politics" dramas of the time. People got to enjoy the light comedy, friendship mantras, romance and of course a few days in the Pakistan Military Academy as well as the beautiful Lawrence College Murree.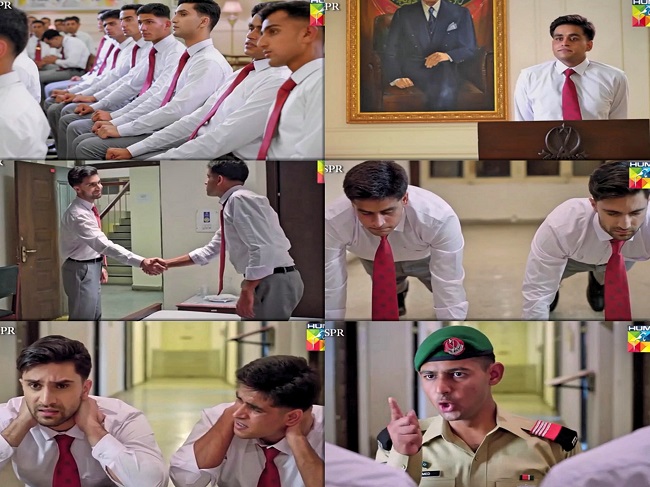 Last night the serial ended with an emotional two-hour long episode. The finale was all about how the pillars of the state; media, army, government and bureaucracy, unite when the country and its security is threatened. The team reenacted a situation at LOC where Indian forces violate the ceasefire. Saad leads a group of soldiers into the enemy's territory to revive their injured soldier, getting severely wounded himself in the process but completing his mission successfully nonetheless. And No he did not die!
People are all praises for the laudable end to the story.
The entire cast of #EhdEWafa is just phenomenal👏👏 a BIG THANK YOU to the makers for giving us a happy ending and spreading a good message about friendship,unity,patriotism,equality and love. This show will always remain close to my heart❤ pic.twitter.com/ZFGprSXPau

— Norah Bing🌸 (@BingNorah) March 16, 2020
Heart touching!
Best ending ever😢will be missed, such a superb project, fantastic messages#EhdEWafa pic.twitter.com/EwXrwCw3au

— Mooni😘 (@mohsinprince888) March 16, 2020
یار کیا ڈرامہ تھا….
I Have No Words To Say About EhdeWafa❤
EhdeWafa Showed The Real And Positive Face Of Pakistan & Pak Army😍
EhdeWafa Is The Best Drama❤
The Best Friendship I Have Never Seen Before🙌
دل کا دل سے ہوا ہے عہد وفا….#EhdEWafa pic.twitter.com/rA8vpUANrK

— Mian Imtiaz Abid (@Prince__Imtiaz) March 16, 2020
Ahad's acting was so natural. He is very loyal towards his work. A big round applause for Ahad. I'm impressed. I nailed the character of Saad!
I'm proud of you
PAKISTAN ZINDABAD @ahadrazamir #ehdewafa pic.twitter.com/mj3G0Pt1ov

— FATIMA 🇵🇰🇨🇦 (fatima_ahadfan) (@bushrafaraz1) March 16, 2020
Crying moments of last episode of #EhdEWafa 💔😥 My Fav Show #Ehd_e_wafa pic.twitter.com/scTX6rCqQO

— Faizan Ahmad (@FaizanAkhlakh3) March 16, 2020
• the way faraz & saad grew as father & son. From being mad at him because of his actions to being proud of his young man •
~ Ehd e wafa covered all the aspects. BEST SHOW FOR A REASON ✊🏻#EhdEWafa pic.twitter.com/Hq8IsrdzFT

— rabea 🌸 (@HeyitsRabea) March 16, 2020
BEST OF BESTS #EhdEWafa pic.twitter.com/yFYe32TTFQ

— M.ABDUL RAHMAN (@MABDULR02285290) March 16, 2020
Also Read: Geo Suspended A Contract With Khalil ur Rehman Qamar And People Are Not Happy!
Desi auntyaa'n to saad after watching Last Episode : #EhdeWafa pic.twitter.com/8nIDoCxHoJ

— Comics by Shoaib ツ (@Sarcastifiedeed) March 15, 2020
*Saad Bach Gaya*
Me Infront of TV #EhdEWafa pic.twitter.com/HK7DJKsPiV

— T A N G 🍹 (@ParhLoHussain) March 15, 2020
People were reminded of all the real sacrifices of our armed forces and their families. Their bravery is truly heroic. 
when saad mom was crying for saad i was feel pain all martayed familys We are proud of every single martyr in our country #EhdEWafa pic.twitter.com/lGo8W0CkcX

— Sheraz Awan (@SherazA87485169) March 15, 2020
These people have actually played the role of Saad
We are proud of you#EhdEWafa pic.twitter.com/22qAiEmWNi

— Farhadafridi (@Farhada14617260) March 15, 2020
Major Ishaq was also a Saad .
We can't forget all soldiers of Pakistan who served for their Nation. #EhdEWafa pic.twitter.com/NXBPfMN9YT

— His & Her Diary (@HisDiary1) March 16, 2020
What do you think about the last episode of the drama? Let us know in the comments below!