Its seems like everything nowadays is interwoven with Khalil ur Rehman Qamar and "to-be-held" Aurat March. After Qamar abused Marvi Sirmed, called her unsavory names and body shamed her on a Neo TV show Tuesday night many people came out to protest against him, including several people from the showbiz fraternity. News is, that now GEO Entertainment and 7th Sky Entertainment have announced that they have suspended their contract with writer Khalil-ur-Rehman Qamar after he swore at a rights activist two days ago on live television.
Announcement 📢 pic.twitter.com/rqPNuyALVD

— HarPal Geo (@HarPalGeoTv) March 5, 2020
"Geo believes in exchange of ideas and promoting the culture of Live and Let live (Geo our Jeenay do) we believe that everyone has the right to express their opinions and the culture of healthy debate should be encouraged"
The statement further said such debates should be held in the norms of decency and with respect. "He [Qamar] not only used abusive language against a woman but also refused to accept his mistake and apologies for it," 
In response to this jerky announcement by GEO, the writer declared to cut off all professional ties with the channel, also refusing to apologize to the people whose sentiments he had hurt with his conduct.
After the news made rounds on internet, people are expressing their fury over the decision by the channel. #boycottGeo has become the top Twitter trend in the country since then.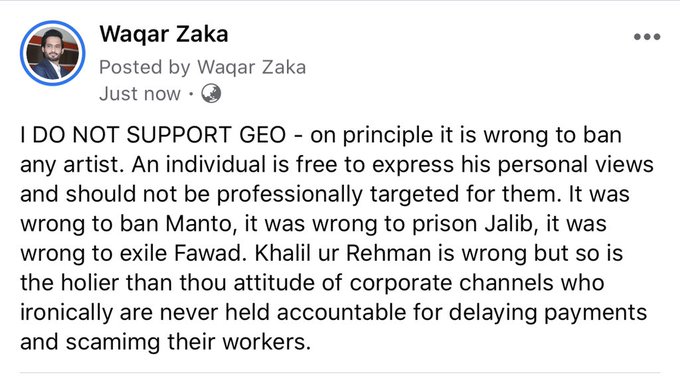 Lets start hashtags for #UnsubscribeGeo in addition to #BoycottGeo
And unsubscribe their channels and do not watch their new dramas especially on youtube.

— Rizwan Sohaib (@rizwansohaib1) March 5, 2020
Also Read: Twitterati Has Got Into A Ludicrous Spat Over The Slogan "Mera Jisam Meri Marzi" And Its Appalling!
History remembers artists. It remembers people that give us something to remember. For Khalil, Pyary Afzal is enough in that matter. What will we remember @marvisirmed for? Keep shitting, losing control if we payback? Yeah, Bugger off.#BoycottGeo #WeRejectMeraJismMeriMrzi

— Abdur-Rehman Qadeer (@ARBINQADEER) March 5, 2020
#BoycottGeo#UnsubscribeGeo
We do not care for your contract. Rather Geo should be banned for bringing personal conflicts in between official terms. https://t.co/s7inDV8UWP

— Rizwan Sohaib (@rizwansohaib1) March 5, 2020
I was hardcore fan of @geonews_urdu and without it, I was not satisfied about current affairs. Now I'm unsubscribing geo as it played a biased role in the current issue. #BoycottGeo pic.twitter.com/Ea5pBAM99J

— Zia Ud Din Niazi (@ziaudddiin) March 6, 2020
Geo py lanat #BoycottGeo pic.twitter.com/ZyHUUHuMAn

— Saif❤ (@NelumAjk) March 5, 2020
It's a request to everyone plz boycott this traitor channel Geo that is working against Pakistan #BycottGeoNews #BoycottGeoTv #BoycottGeo pic.twitter.com/UjbazJS4rB

— Hamza Kaleem (@hamzabutt61) March 6, 2020
Pathetic stance of a local channel! We are With you sir.#BoycottGeo #WeRejectMeraJismMeriMarzi#KhalilUrRahmanQamar pic.twitter.com/Z4MObzWDKT

— Faisal Rana (@ranafaisal457) March 5, 2020
Every person who is with Khalil ur Rehman Qamar he is need to unfollow the Geo news like now#BoycottGeo pic.twitter.com/jyNpu4kWh8

— Chaman Chaudhary (@ChamanChaudhar7) March 6, 2020
Now your turn..
Unlike all geo tv pages on facebook and unfollow all their account on twitter…#BoycottGeo pic.twitter.com/0Z5Oo8Fpvr

— Umar Prince👑 (@umar_prince5157) March 6, 2020
#WeRejectMeraJismMeriMrzi
The war has been declared. Geo started the march. And we have to choose one of two evils. I'm gonna choose sides. And Imma choose KRQ. Let's tweet with #BoycottGeo. Because Imma do it.@FarhanVirk @iVeenaKhan @DrSMFanClub @IamYasif @KrqOfficiaI pic.twitter.com/ZlYKdv13Ch

— چاند شاہ (@Chandshah05) March 5, 2020
please raise your voice against foriegn funded so called newspaper #BoycottGeo pic.twitter.com/bnbGU7nXpf

— Nomi (@Nomi09286698) March 6, 2020
Geo should Apologize to KRQ#boycottgeo pic.twitter.com/vOBRcOQtDa

— Awais Raza (@awaisraza049) March 5, 2020
Hatsoff to Khalil Ur Rehman & Yes I'll boycott Geo #BoycottGEO

— Kamran Zafar ( کامران ظفر ) (@KamranMadni17) March 5, 2020
GEO and 7th Sky Entertainment had enrolled the writer in a contract to write four dramas per year for them including one feature film as well.
Have something to add to the story? Let us know in the comments below!