Being the mega-city, Karachi holds some tremendous attraction for food lovers. The exquisite street food makes it irresistible for natives and travelers alike to lighten their wallets and enjoy these mouthwatering feasts on roads.
Here is the ultimate food guide to some delicious street foods of Karachi which you can enjoy while roaming the beautiful city.
Javed Nihari (Dastagir FB Area)
This street-side café serves some amazing Nihari; meat stew which is rich in texture and will surely explode your taste buds. The Nihari has a cinnamon-infused taste to it. Sprinkle it with some fresh chilies and ginger and enjoy one of the hardiest breakfast ever.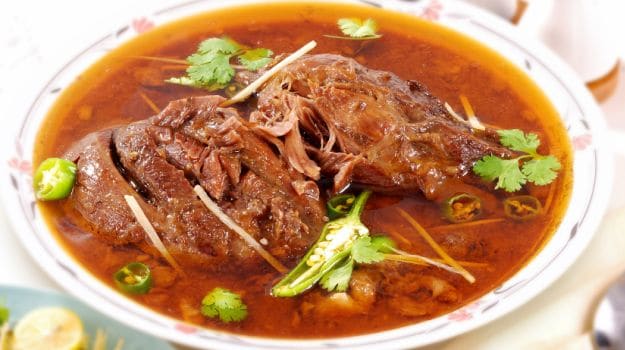 Arabian Paratha
If you travel around Burns Road you will definitely come across stalls of Arabian paratha. Shallow fried flour dough filled with egg and chicken mixture is a chewy snack you will never want to miss. It's like a minced chicken omelet in a fried bread and you will enjoy it beyond imagination.
Also Read: This JUI-F Leader Claims That "WIKI" From Wikileaks Is Jemima's Cousin & *Face Palm*
Matka Kulfi
Kulfi frozen in small clay pots also called matkas will give you an unusual experience of eating kulfi. A must-try if you are in for a quick roadside dessert.
Karachi Biryani
How can we neglect the nobility of Pakistani cuisine? Often we have seen Karachites flaunting their way of cooking biryani and declaring it the best in the country. So once you land in the city itself, you must taste it and see for yourself if the claims have some ground or not. The aroma and the lemony flavor of the Karachi Biryani will leave you craving for more. Also when you are at it don't miss the nali biryani (biryani with bone marrow), it will be an experience like never before and will blow your taste buds.
Fish Katakat
You must be used to brain masala as a katakat dish but this fish katakat will surprise you. Deep-fried fish shredded and mixed with a lot of spices and served with softest of chapattis, this dish will make you fall in love with it.
These are just a handful of food items that we have enlisted. Certainly, once you are on a food hunt you will find a bundle of cookouts that will fill your tummies with temptations to remember forever.