27th of February has earned an enormous significance in Pakistan's history since last year.This day in 2019 started with immense anticipation and insecurity amidst all the war mongering by India.The news of two Indian jets flying and bombing some fictitious terrorist sites in Pakistan caused a lot of alarm in the masses. However in some moments we were exposed to an entirely different situation;Indian warplane Mig 21 was taken down by Pak Air force and its pilot was held in custody, with the news of only a few trees being "dead" by the Indian strike.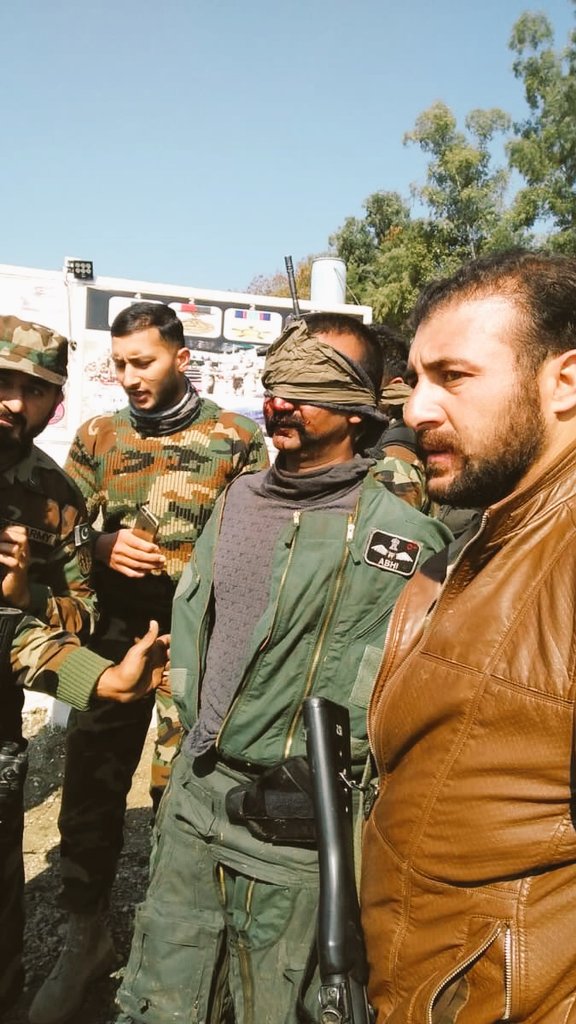 That day, Pakistanis not only got triumphant glory over the enemy but also a subject for ultimate meme frolic.A video of the captured pilot name Abhi Nandan surfaced in which he was seen sipping tea and having a casual chatter with Pak army men. The footage went viral in a jiffy all over the world and of course the memes came gushing in.
Today Pakistan is remembering this historic day and the courage shown by our forces. #27thFebSurpriseDay has become a Twitter trend by now.
27 February 2019 will always be remembered as a golden day in the history of Pakistan & Pakistan Air Force (PAF). This day will be remembered by the enemies as well & they will think twice before enforcing aggression on Pakistan.#We_Shall_Surprise_You pic.twitter.com/ztYziSmXN3

— Waqar Zafar (@WaqarZa380) February 25, 2020
Hello India 🇮🇳,
Do u guys remember these two " PAKISTANI 🇵🇰TIGERS "#We_Shall_Surprise_You pic.twitter.com/p7ZS74smwm

— Naila Qureshi (@NailaQureshi999) February 25, 2020
A cup of tea at price of a mig and grand humiliation and embarrassment only India can afford.
Modi should never forget breakfast of 65 and now fantastic tea of 2019.
PAKISTAN is an amazing host and will keep on such efforts#We_Shall_Surprise_You pic.twitter.com/W7QJPTWXvZ

— Engr.Saad Kaleem🇵🇰 (@ZarbeKaleemi) February 26, 2020
Endia will never be able to surprise us !
27 Feb 2019 surprise was fantastic#27FebSurpriseDay@TeamPakZindabad @Muhamma51381052 pic.twitter.com/iOGrsBlIHa

— Muhammad Shahbaz Khan (@Muhamma51381052) February 26, 2020
People surely have not forgotten the famous cup of tea. 
Most expensive tea ever☕ shhhhrrruuupppp…….#27FebSurpriseDay
pic.twitter.com/5FyzBNcRZF

— ShErAz🇵🇰 (@SherazAS1) February 26, 2020
Endia will always be surprised when it will be try to surprise us. 27 February 2019 nevr forgttn 😎✈🛩#27FebSurpriseDay
pic.twitter.com/LSp8Gm9W4j

— ShErAz🇵🇰 (@SherazAS1) February 26, 2020
Also Read: LHC Accepts Petition To Stop "Aurat March" And People Are Not Happy!
We are going to celebrate "National Tea Day" on Feb 27th. 😂#27FebSurpriseDay@TeamPakZindabad @MianMateenSays @IamYasif @GreenAngel786 @Gohar0066 @_____Traveller @iVeenaKhan @v3nd3ttaX @SherazAS1 @SurpriseDay27 @GuriyaJaral @Hanifkhan762 @Baloch82173 @Arma_poet @Army_bratss pic.twitter.com/lyXbW6BE8H

— شہزاد چوھدری 🇵🇰 (@BeingJovial) February 26, 2020
Yes tea Was fantastic 😂😆#27FebSurpriseDay#balakotairstrike pic.twitter.com/IhLeeP8Dov

— Mr Masoom⚡ (@NotYourBhai1) February 26, 2020
How was the tea?#27kasurprise #27Feb #27february #teaisfantastic #pakairforce #pakarmy #abhinandan pic.twitter.com/siathykDTv

— GNN (@gnnhdofficial) February 24, 2020
واقف کہاں زمانہ ہماری 🇵🇰 اڑان سے

وہ تم 🇧🇴 تھے جو ہار گئے آسمان سے
💪😉😆🇵🇰😍#27FebSurpriseDay
Have a Fantastic crash landing…😆@sa_afrid pic.twitter.com/fg2qQux96j

— Saddam khan Afridi (@sa_afrid) February 26, 2020
Dear india Never underestimate the power of Pakistan, we will surprise you again and again 😁#27FebSurpriseDay pic.twitter.com/TD5eLR2OXA

— Hafeez RaJpOoT Toor (@HAFEE_47) February 26, 2020
It seems like the phrase has become a national pun weapon. 
Picture of the day!
Thanks sir @peaceforchange for making our February Fantastic! 💚✌ #We_Shall_Surprise_You pic.twitter.com/AK3u63L2c5

— Ana_Syeda(Hussaini) (@AamnaBukhari) February 25, 2020
Lastly another surprise in February for India this year that has ruffled its peace. 
February always month of surprises for india😃😁😆#27FebSurpriseDay
pic.twitter.com/f3UpptkUVk

— ShErAz🇵🇰 (@SherazAS1) February 26, 2020
Have something to add to the story?Let us know in the comments below!