Women's day in Pakistan has become quite a contentious affair, which stirs various fragments of the society in different ways.Since some years the civil society has become highly active and ardently sets up a women solidarity march; named "Aurat March" on women's day each year.For many, this march is a way to voice the concerns of thousands of oppressed and traumatized women in the country, while for others it is mere food for mockery.The slogans raised during this parade such as "Mera jisam Meri Marzi" and "Apna Khana Khud Garam Karlo" whipped many people; thus making this demonstration highly controversial.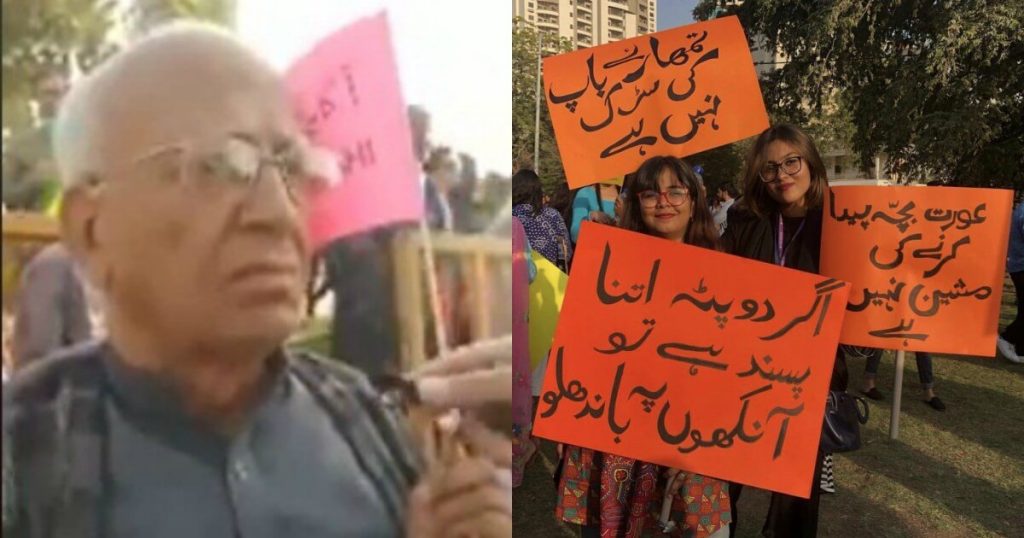 This year round however,some people have filed a petition against this to-be-held Aurat March in Lahore high court and have pleaded to intercept it as it spreads anarchy amongst the masses.
To everyone's surprise, LHC has accepted the petition and the hearing will start from 27th of February.
BREAKING:
Lahore High Court accepted a petition to stop Aurat March 2020.

Petitioner Azhar Siddique:
"there are various anti-state parties present who are funding this Aurat March with the sole purpose of spreading anarchy amongst the masses".

Will be heard at 27th Feb.

— Haider Kaleem (@HaiderKaleemB) February 24, 2020
The petition also termed the march "against the very norms of Islam" and that its hidden agenda is to spread "anarchy, vulgarity and hatred".

"During last year's Aurat March, women were holding placards that had objectionable messages," said Siddique.

— Haider Kaleem (@HaiderKaleemB) February 24, 2020
According to the petition, PTM is a major stakeholder of Aurat March and it also alleges Aurat March to be 'blasphemous'.

— Haider Kaleem (@HaiderKaleemB) February 24, 2020
Also Read: After All The Wrangling, Ali Zafar Is Set To Release His Own PSL Anthem!
For obvious reasons, Twitterati were irked immensely by this decision. 
can not BELIEVE this. aurat march, where women ask for rights, where women ask to be treated like HUMANS, is being banned but mard march wasnt? mard march where all those filthy men did was degrade women? this country will always be a horrible place for anyone who isnt a man. https://t.co/ydSFMWZXg9

— maybe I havent been looking at the sky (@twinfantasyx) February 24, 2020
How fragile can a male ego be to be so affected by this Aurat March. People really need to move on and focus on what really hurt their lives rather than crying over a simple protest which would be a routine in any other country.

— VanDjiked (@Tweetistaaan) February 24, 2020
LMAOOOOOOOO just heard somebodys trying to petition to get the aurat march shut down
that didnt take long at all lmao male fragility at its finest yall. truLY the most pathetic lot literally a bunch of babies getting their wittle feelings hurt. weaklings

— 🐶 (@maddD0gg) February 24, 2020
Aurat March provides an opportunity to spread awareness, claim our space in the society without harming anyone ffs. The male ego is fragile as fuck I reckoned.

— Ariha ila Fatimah⁷ (@arihafatimah) February 24, 2020
First the posters and now this petition does nothing but emphasize on the importance and need for #AuratMarch2020https://t.co/VHMLbmRUtU

— Beenish Zia (@beenish003) February 24, 2020
This petition brought to you by the man who moved the Lahore High Court to ban Facebook and YouTube; to try two former PMs and journalist @cyalm for treason; and to dismiss General Pervez Musharraf's treason conviction. https://t.co/3RaPu993gW

— Asad Hashim (@AsadHashim) February 24, 2020
Reading the petition against the Aurat March made me dumber. It was so stupid a few of my brain cells just off-ed themselves in protest at having to process that such a legal document was made and submitted.

— Mariam Nadeem (@mtfa_) February 24, 2020
Predictably the fragile forces of patriarchy are now gearing up to try to stop Aurat March. Which only serves to underline why we need a march in the first place. Can't even have a march without these snowflakes being triggered.

— Saadia Toor (@pagalpanchi) February 24, 2020
Some people think no one but judiciary is at fault when they accept such cases for hearings. 
I think it says more about our judges who take up such petitions than the petitioner; quite sure most men in Pak would love to have the Aurat March banned, but the judges should know better than to indulge in such shenanigans. Unfortunately not. https://t.co/E4czrAGGhv

— Haris (@bandaydaputtar) February 25, 2020
So much scared of women marching. Lahore High Court accepts hearing a petition to stop the Aurat March. "there are various anti-state parties present who are funding this Aurat March with the sole purpose of spreading anarchy amongst the masses". https://t.co/RnEkRue7ly

— Naila Inayat नायला इनायत (@nailainayat) February 24, 2020
Women's day is celebrated to advocate for females who are denied their rights in all matters of life and honor the courage of those who rose against all odds to set us an example.Pakistan possesses such women in abundance.However getting into societal feuds such as these is surely diffusing the true essence of this imperative day.It is the need of the time to look beyond these petty matters of how appropriately one is pressing upon this issue and work for something substantial for the tyrannized women of the country.
Have something to add to the story?Let us know in the comments below!