Nasir Khan Jan is a crafted social media star who amuses the audience with his wacky yet original content. His humor,  though sometimes awkward, leaves his audience into utter hilarity. On the basis of this Nasir has earned a huge fan following and stood against social stereotypes in his own capacity.
Also Read: Iffat Omer Lashed Out At Imran Khan & People Are In A Blue Funk About It!!
Now the "on-net" star has left us all impressed with his Photoshop skills.
Nasir dropped snaps with famous celebrities and politicians and looks like he is having the time of his life.
Jan with late princess Diana. Aren't we all envious?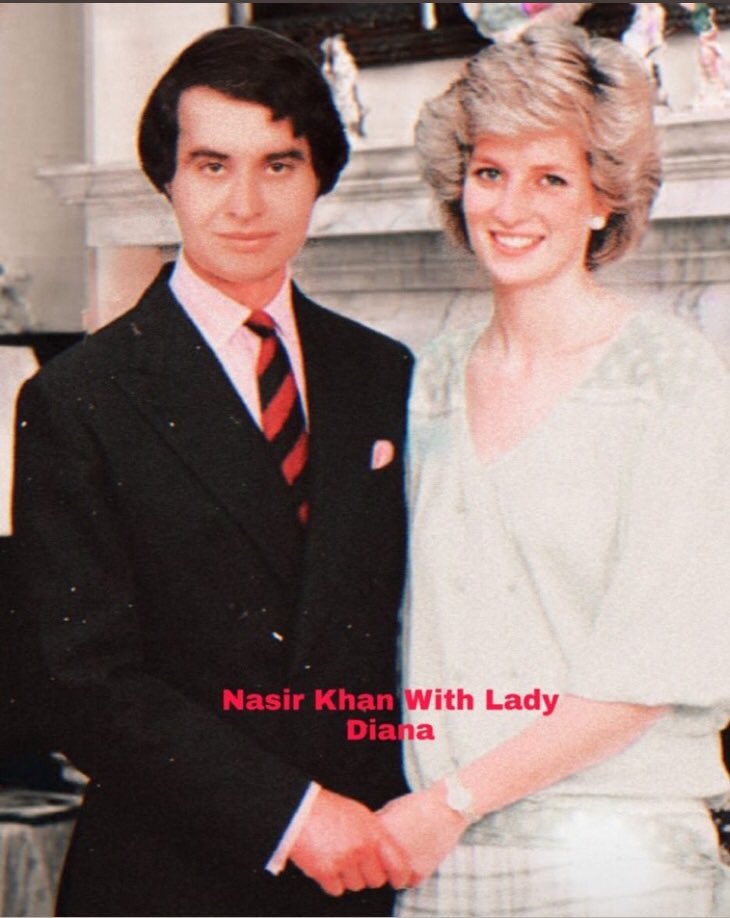 Three years ago he had a meeting with the crowned as a most influential celebrity: Kylie Jenner while her husband Kayne West was also present.
Also, the #NasirMeriJan promo code will get you a 98% discount from Kylie Cosmetics. *dead*
3 years ago, the moment when Kylie told her jeju Kanye West Kala about our relation, and this photo was taken right after first launch of Kylie Cosmetics.

And my fans, if you want to purchase any of kylie product Please use promo code #NasirMeriJan so you will get 98% discount. pic.twitter.com/33JDKfat3C

— Nasir Khan Jan (@NKJModel) November 29, 2019
Salman and Nasir having a bro time at a beach!!
Hur hur dabang dabang dabang 3 pic.twitter.com/qLojTkvz5k

— Nasir Khan Jan (@NKJModel) November 25, 2019
Curious about Nasir's love interest?
Here is a picture of him with his "girlfriend"
When I was in relationship pic.twitter.com/q5LImzP56u

— Nasir Khan Jan (@NKJModel) November 23, 2019
Oh and he is a "havard" i.e. Harvard graduate. Shocks!!
During College at havard University pic.twitter.com/W42sM9nuok

— Nasir Khan Jan (@NKJModel) December 3, 2019
Lunch with CEO Facebook. 
Unforgettable moment lunch with mark zuckerberg pic.twitter.com/aPOBHFiloj

— Nasir Khan Jan (@NKJModel) November 14, 2019
He also takes a dig at former Prime Minister Nawaz Sharif in a subtle manner.
i am at Ilahore airport, i was going to London BUT i got stopped by officers and they told my name is in ECL, i just want to clear that me and Nawaz Shairf are just best friends, i am a non-political guy. Please pull out my name from ECL. pic.twitter.com/HkEYnz1Xzl

— Nasir Khan Jan (@NKJModel) November 12, 2019
Of course, people can't hold back the trolling on these comical pictures.
Bht harmi dimag hai tera😂😂😂😂😂

— FaTiMa Kashmiri (@Fatikashmiri) December 2, 2019
— Maham Bee. (@BubbleBegum) December 2, 2019
— Insane_Insan😜 (@Insane_insan001) November 29, 2019
You will get a defamation notice from Harvard very soon

— Muhammad Bilal Shakir (@bilalshakir2010) December 3, 2019
— میمن ٹاٸیگر(چھترول اسپیشلسٹ) (@mtigermemon) November 25, 2019
— fornaxinh (@fornaxinh) November 25, 2019
Have something to add to the story? Share it in the comments below.