PTI officials haven't proved to be very canny while voicing their opinions over prevailing issues.
Be it Firdous Ashiq Awan calling an earthquake a consequence of forthcoming "tabdeeli"
or Shaukat Ali Yousafzai's insulting remarks on unemployed doctors, they have shown some serious inadequacy of poise and foresight.
We strongly condemn this kind of abusive comments regarding the highly qualified professional's in the country by Provincial Minister for information of Kp.@SHABAZGIL@SAYousafzaiPTI
#SaySorryToEngineers
pic.twitter.com/znJsQH8cUi

— john Snow 🇵🇰 (@iWillSurpriseU_) October 2, 2019
This time it's Special Adviser to the Prime Minister on Youth Affairs, Usman Dar who is under fire for his crude remarks against Pashtun vendors.
Talking in a live show on Express News Usman Dar said: "In the end, they [the Azadi marchers] will get the same [returns] as those Pathan [vendors] who roam in streets and sell a blanket worth Rs500 for Rs50."
As the Usman Dar slammed Pukhtoon on national TV, I strongly condemn it.Neither does their leader think before speaking and their cabinet.We are proud as a Pukhtoon, if they earn working hard, then Usman Dar has no right to humiliate them۔@PTIofficial #ShameOnUsmanDar pic.twitter.com/6bIFEtMMmj

— Rehman Chand (@RehmanChand2) November 6, 2019
PML-N presentative Hina Pervez Butt who was also a guest at the show immediately condemned the statement calling it unfair to outpoint the word Pathan randomly. Dar stayed adamant on his remarks until the host of the show intervened and asked him to take his words back after which he said: " Alright, I will take my words back".
As soon as the show's excerpts went viral, people on twitter started bashing the advisor to the prime minister for his statement.
Remarks against Pashtun by pathetic Dar are completly unacceptable. Today you are in power because of these Pashtuns. 😠 @UdarOfficial #ShameOnUsmanDar #UsmanDarAgainstPashtuns

— Junaid Ahmad (@imjunaidak) November 5, 2019
@UdarOfficial is an asshole bigot for degrading Pashtuns like that. He has a tendency in sidelining Pashtun youth in his capacity as SA on Youth Affairs to the PM. #UsmanDarAgainstPashtuns

— ☢ (@Enigma_question) November 5, 2019
Pashtuns selling Rs.500 carpet in Rs.50 are still more dignified than you & your corrupt politicians.Having a Pashtun as his leader #UsmanDar made such a statement & target Pashtuns.Another e.g from incompetent ppl PM has around him. #UsmanDarAgainstPashtuns #ShameOnUsmanDar pic.twitter.com/hmqJRtG5WB

— Areesha Babar (@areeshababar24) November 6, 2019
Also Read: Hareem Shah Turned PM Office In A TikToK Studio & We Dont Know WTF Is Happening!!
You know what illiterate people like usman dar who's lose his election on big margin is reflecting his character level on his words he is a coward and stupid man. How he will know who's is Pathans and Pukhtoons history
I strongly condemn his nonsense wrds#UsmanDarAgainstPashtuns

— Mar Khor (@Engr_Raufkhan) November 5, 2019
"Shame on Usman Dar" became a top trend after the clips of the show went social. Some people demanded an apology and asked for the cancellation of Dar's party ticket.
Condemnable. He must apologize to all Pathans on National TV & his party membership must be cancelled. We don't need such racists in our country. If a person like @UdarOfficial (Special Adviser to the PM) passes such comments what else can we expect here?#UsmanDarAgainstPashtuns

— Dr Sohail Khan (@DrSohaiil) November 5, 2019
Meanwhile some senators have filed a complaint against Usman Dar and asked the matter to be taken to the committee of rules and procedures of the senate.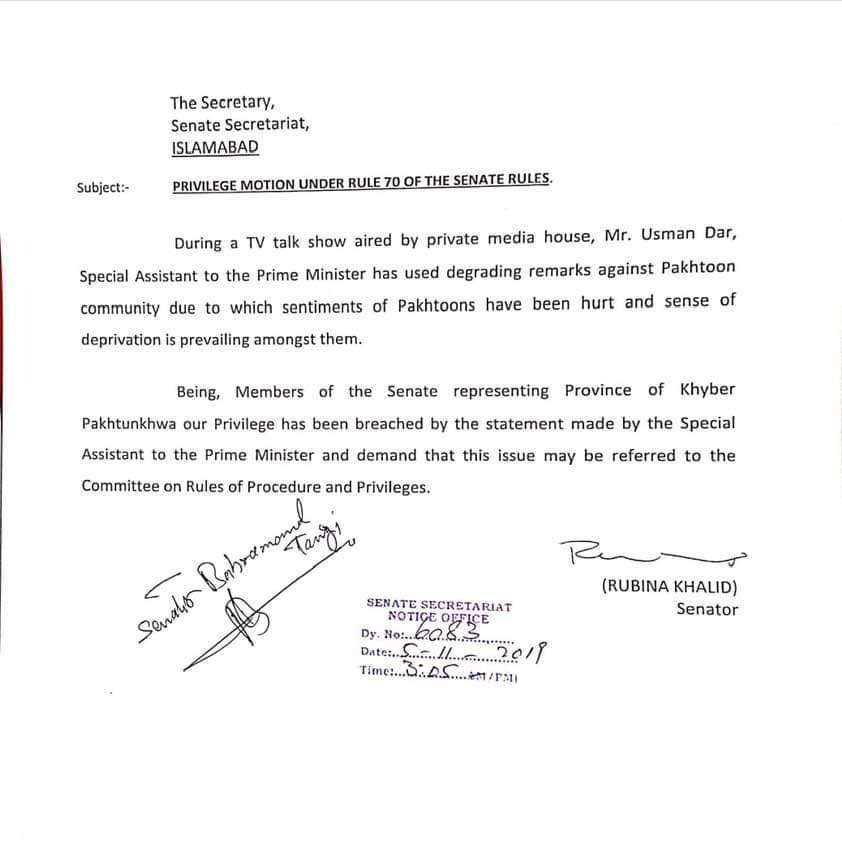 MNA Mohsin Dawar also condemned Dar's remarks, calling him out for making fun of Pashtuns who are making an honest living.
Pashtun displacement into Punjab is a cost of Pak's strategic depth policy. These Pashtuns won't have left their homeland, if it wasnt used for strategic games & was allowed to grow to full potential. #ShameOnUsmanDar for making fun of those who are just making an honest living.

— Mohsin Dawar (@mjdawar) November 5, 2019
Usman Dar's comments were certainly derogatory and an apology is due. We hope that the government officials will subsequently learn to be more considerate while talking to media in the future.